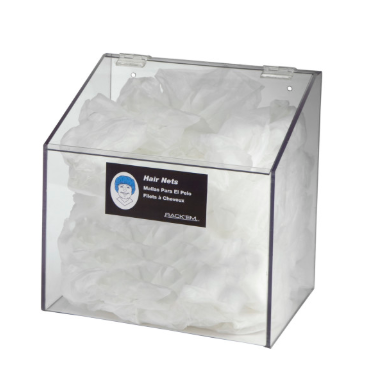 Rackem Safety Hair Net/Beard Cover/Shoe Cover / Arm Sleeve Dispenser (No Hole in Front) - 1 Compartment
Hair Net/Beard Cover/Shoe Cover / Arm Sleeve Dispenser (No Hole in Front) - 1 Compartment with clear lid, CLEAR PLASTIC, table or wall mount for easy access, 11.5"H x 11.75"W x 9.5"D. Dispenser comes with 4 labels Hair Net, Beard Cover, Shoe Cover, Arm Sleeve & Blank
Clear acrylic dispenser with clear lid with slip-resistant rubber feet for mounting on table or shelf, and holes for mounting on the wall.  Provides quick access to hair nets, beard covers, face masks, or shoe covers.
Unit comes without labels applied. Includes the following labels (stickers): Hair Nets, Beard Covers, Shoe Covers, Arm Protectors, Blank Customizable White Label (that can be written on with pen, marker or self-adhesive laser printed labels). End user selects the appropriate label for their application.  Illustrated labels have a caricature showing the item in use, and tri-lingual wording (English, Spanish, French Canadian) to insure worker compliance.
SIZE 12.5″ H x 12″ W x 9.5 "D
Rack only. Accessories shown are not included.