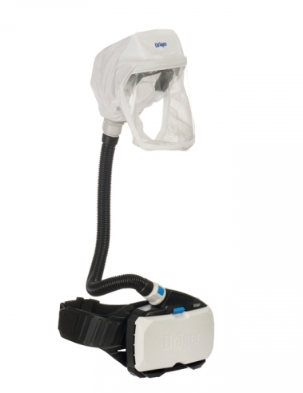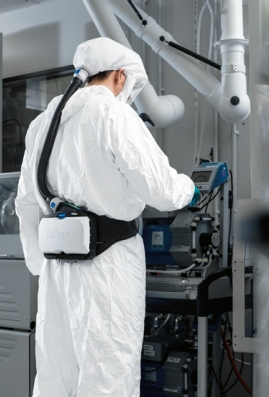 Draeger X-plore 8500 Hood Set (Standard Hood)
Draeger X-plore 8500 Hood Set (Standard Hood)
Draeger X-plore 8500 Hood set. Includes blower unit, high capacity battery, standard charger, standard belt, comfort pad, Standard hood, short (L/XL), flexible hose. *Filter must be ordered separately,

Workplace environments that compromise the quality of air you breathe demand reliable solutions. The Draeger X-plore 8000 PAPR offers a new level of intuitive handling combined with intelligent electronics. The result? The high degree of personal protection you need to focus on the task at hand.
Benefits
Robust: Designed for daily use in tough environments

Let's face it: for your workplace, only the most rugged design will do. The Dräger X-plore 8000 PAPR has a heavy duty design with rubber protectors and high ingress protection (IP 65) against dust and water from any direction. A choice of a standard or long-life battery—using the latest Li-ion battery technology—provide power for at least 4 and 8 hours, respectively. Protected air intake openings ensure that sparks or water coming from the front will not be sucked into the filter.
Comfortable: Lets you focus on your task

The Dräger X-plore 8000 lets you do your job and forget about your PAPR. The advanced carrying system ensures optimal weight distribution. The system provides a tight and stable connection between the belt and the unit through a special adaptor plate; an optional comfort pad is also available. The hose connector features a 360° click adaptor. The new headpieces are designed for optimal airflow and maximum comfort to avoid eye irritation.
Safe: Self-explanatory operation minimizes user error

The PAPR unit recognizes connected headgear and automatically selects the correct minimum flow rate, avoiding leakages caused by insufficient flow rates. An optical sensor prevents use without the filter and supports the right display of the saturation of the particle filter. The filter system features a plug-and-go exchange. The system is equipped with optical, acoustic, and vibrating alarms. The entire system uses uniform color codes on all exchangeable elements and an error-proof hose connector.
Easy to maintain: Efficient cleaning and secure operation

The Dräger X-plore 8000 PAPR was designed to be practically maintenance free, which can lead to low cost of ownership. The self-check and self-adjustment systems feature advanced temperature and pressure sensor technology to ensure the right flow rate for any environment. The simple and efficient charging system allows rapid charging (less than 3 hours for an empty battery). The unit is designed for fast and easy disassembly for cleaning.
Modular: A wide range of components for every application

The Dräger X-plore 8000 offers a number of user-friendly carrying systems for standard and decontamination applications. A wide range of tight- and loose-fitting headgear such as half and full face masks, short and long hoods, helmets with visor, and a protective visor complete the system. Standard and enhanced flexibility hoses are available and compatibility is ensured. You can combine various components and accessories to best fit your application, and system upgrades are possible at any time.
Dräger X-plore® 8000 PAPR Headpieces

Our portfolio of innovative hoods, helmets, visors and masks is an integral part of the new Dräger X-plore 8000 powered air-purifying respirator (PAPR). You can combine various components and accessories to create a PAPR that meets your specific needs for breathing protection on the job. Whether you choose from the loose- or tight-fitting series, you can be assured of effective breathing protection and a high degree of comfort.
Benefits
Always a winning combination

The Dräger X-plore 8000 PAPR headpiece portfolio was created for maximum respiratory and facial protection under even the most challenging of condition. Offering safety, comfort and top performance in numerous application fields, X-plore 8000 headpieces are designed to be used with other components from the X-plore series. So if you combine them with the X-plore 8500 powered air-purifying respirator, you can be sure of performance quality and safety no matter what the job demands. X-plore the possibilities!